Hilti & Jehle GmbH
0 open job/s
Description
Hilti & Jehle is a broad range construction company, that constructs buildings for public, industrial and private use and is also specialised in civil engineering. The special conrete slide technology of Hilti & Jehle is used in almost all tunels in Vorarlberg.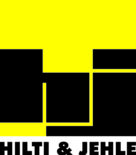 OVERVIEW
Employees worldwide
600
Umsatz
104 Mio. €
Products
Construction Company
Industry
Construction & Crafts
Contact
Daniel Pusnik
Hirschgraben 20
6800
Applications please by
E-mail

Stay up to date!
Don't miss any events.